Advertising Disclosure: This website is a personal site written and edited by me. This site accepts forms of cash advertising, sponsorship, paid insertions or other forms of compensation. For Further information, please check out my advertising disclosure page!
I can hear you now. Another "Essential Fashion Items" list. That will tell me the same crap? Well. Yes. But, do you know why you will read this? Because you're hoping that I will tell you something different. And guess what? I won't with some things. Others, I will! Hooray for leaving people in unnecessary suspense!
Every website has this. 7 essential fashion items that you must have so a plus size woman can be fashionable. Yup. Well, why not give my take? The biggest issue I have, as a curvy woman, is that I don't like a lot of the "essential fashion" items.
Some I do. Don't get me wrong, but let's be honest. On a Friday night, I'm more likely to watch BBC's Star Trek TOS marathon than I am to go to a party. Give me a Braves game (well, if they can ever get their act together), over whatever the latest hot show is any day.
Look. I'm not a fashionista. Most plus size gals aren't either because they don't do high fashion. In fact, if many are like me, the real problem is trying to look pulled together while looking casual!
And that's why I'm here. Because I'm lazy and don't want to spend nine hours in the morning to look cute. If I can pull it off the hanger, you've made this curvy girl, quite happy.
With all of these, my recommendation is to try to get these (or if you have them already, woot!) in the colors black, white, and gray. The best part is that with this capsule wardrobe, even though I am a plus size woman, I still feel as chic as Audrey Hepburn.
Essential Fashion Item #1 – A Tank Top.

Long Rib-Knit Tank Top 6X, Black
A tank top. The most important thing in my arsenal. I have my three essential colors that I wear all the time (black, white and gray). They are casual, and they make me feel sexy, even if I'm lounging, with my hair in a ponytail.My favorite tank tops come from
Hips And Curves
. I've mentioned before that I am a huge fan of theirs. The biggest reason is because the fabric is so soft and comfortable.You can also get a more affordable option from Walmart, with the
Faded Glory Women's Plus Layering Tank.
Essential Fashion Item #2 – A Short Sleeve Crew Neck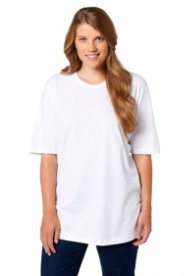 I love the
Hips and Curves Super Soft Cotton Tee
. It's soft, and comfy, at least to me. I love how it's kind of slouchy because, to me, it's very French. Effortless without trying way too hard.
Ulla Popken's Relaxed Basic Short Sleeve Tee is phenomenal. It was one I got in Paris (see story below). I've had mine for over a year, and it still hasn't faded, and I still haven't seen any holes in it. Love.
Walmart's Faded Glory Women's Plus-Size Short Sleeve Crew Neck Tee is a good, more affordable option. It goes up to 4x.
Essential Fashion Item #3 – A Cardigan

Airport Greeting Cardigan in Ink in 3X – $54.99
from: ModCloth
Cardigans, the easy going and laid back jacket that's so effortless, it's amazing. Rarely will I ever be without one Confession: I will always try to get them with 3/4 sleeves, or, just get them tailored to 3/4 sleeves.Ulla Popken has a great
 V-Neck Long Sleeve Cardigan Sweater
. What I like about them is that they are nice and comfortable, and appropriate for spring. Plus, you get super cute pockets, and it goes up to size 34.This is comparable to ModCloth. I seriously love Modcloth. Everything from them is amazing (well, that I have tried). The
Charter School Cardigan
is one of my favorites. However, be forewarned, these run crazy small. The size 4x is actually a size 3x.Additionally, Modcloth's
Airport Greeting Cardigan
is a great option. The fabric, however, isn't soft. Instead, I feel it is scratchy, no matter how many times I washed it.Kiyonna has a
nice cardigan called the Sunset Stroll Bellini
. It's nice and comfortable, butI feels it is a little too frilly for my taste. I have it, I like it, but I really only wear it at work, if I'm being very honest.Additionally, Faded Glory, from Walmart, has great cardigans like the
Faded Glory Women's Plus Button Down V Cardigan
. The
Faded Glory Women's Plus-Size Rolled Tab Sweater Shrug
is super cute.
Essential Fashion Item #4 – A Pair Of Leggings

Simple and Sleek Leggings in Black – High-Waisted in 4X
Storytime! A few years ago, my best friend and I went to Paris. I only had dresses, because, you know, that's what you wear in Paris. Or so I thought. Anyway, the temperature went from a nice balmy fall 75 degrees to 40 degrees overnight.Imagine my best friend and I running around Paris trying to find something that fit me so I wouldn't be cold! We found a place, and it is one of my all time favorite brands now, all because they were there for me, in Paris.
The place is Ulla Popken. Terrified, I expected to improvise my wardrobe on the spot (I've been known to do it), and walk around Paris like a fashion designer reject. Luckily, Ulla Popken had clothes in my size, and they were my style!
I got my pair of leggings.
They are form fitting and feel nice. Make sure you wear a tunic or a dress with them.A more affordable option is the
Faded Glory Women's Plus-Size Essential Legging
from Walmart.
Essential Fashion Item #5 – Jeans

eShakti Women's Medium blue denim flare jeans
Jeans are so hard to choose. Trust me. Especially, if you have a wonderful misfortune I do in that I have no butt. I so envy you beautiful women who have it going on back there! But for me, I worry about it getting to my waist and then having a saggy butt.Did anyone else giggle at that? I totally laughed. But, it's true. I have to be crazy picky about jeans, or I will walk around with a saggy butt.Obviously, you can find jeans everywhere.
Lane Bryant
and
Torrid
both have good jeans from what I hear.Some of my favorites come from Catherines. Catherine's has a nice selection of jeans and various styles. My personal favorites are the
Right Fit Jean (moderately curvy)
in the Bourbon Wash. Bonus, they are available in petite!But, alas, I have a confession. I have a favorite pair. My favorite is the
Mony Zip Pocket Stretch Jeans
. I have them in many pairs, mainly because I love the fit. Might want to check out the blue and gray colors. I love Ulla because they go up to a size 34.
For a more affordable option, Walmart has the Just My Size jeans. These go up to a size 26.
Essential Fashion Item #6 – Black Pants

Leigh Pants, Black (Women's Plus Size)
I struggle with this because I have the same struggle with pants the same as I do with jeans. Again, we know this.One of my favorite pairs of black pants is
Catherine's yoga pants
. They are nice and comfortable, especially the boot cut.Ulla Popken has the
Classic Stretch Bengaline Comfort Pant
, in regular, short and tall. these things are fantastic. I love how soft they are and how they fall on my curves. These go up to a size 38.Eloquii has the
Side Pleat Trouser
. I like them because of the wide leg. They go up to a size 28.If you want to go to Walmart and save some cash, here is the
White Stag Women's Plus Knit Pull On Pants
.
Essential Fashion Item #7 – A pair of flats.
I have wide feet. A year ago, I would've told you to get Birkenstocks. Now, I have to tell you, the pair of flats that are my live or die shoes are a pair of Tieks. They are expensive, but they are the only shoes that I can wear easily. I have a serious problem with them, though. I am an avid collector of them
Since I am not an authority on shoes (other than almost every other shoe out there that hurts my feet), I would recommend you go to your nearest Nordstrom, Walmart, Target or Payless to get a pair you enjoy.
That's it!
These are the seven things that I feel every plus size girl needs in her closet. The items recommended will help you create a strong basic style that has a je nois se quois. The best part is, it's a capsule wardrobe, also! You can create tons of looks with this.
But, are you a girl who needs variety in her life? Color? Black and white, not your thing?
That's ok. I chose black, white and gray because they are easy. Someone is bound to say: "What about a dress or a skirt?" I'll be honest, I don't wear them on a daily. I'm not a skirt or dress person, but if you like them, add them on!
Don't worry, we will be building on this list. For now, these are the basics.
Additionally, if you do decide to shop online,
don't forget to sign up for E-bates.
if you haven't heard of it, you get a percentage back on almost everything you buy online. It's fantastic. They pay you on a quarterly basis, and I was able to get $53.00 back, just from shopping. I love it, it is perfectly safe. Here is my link to it (yup, I am an affiliate to it, if I've helped you, and only if I helped you, please consider signing up for it). I don't want you to have doubt though, so here is an
article Clark Howard in May 2016
so that you can be informed with what
you're getting into by signing up with E-bates
.
[et_bloom_inline optin_id=optin_3]